Superior Paint Supply
Proudly Serving Customers Since 1959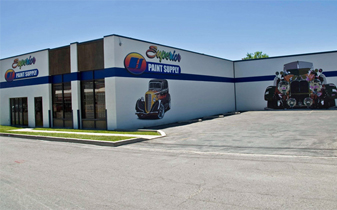 At Superior Paint Supply we understand that a car, truck, or SUV is more than just a simple mode of transportation; it's a personal expression of self. We offer the finest paint supplies available to help bring that individuality to the surface.
We are a private, locally owned automotive paint supplier serving Utah and the surrounding states for over 50 years. No matter what you drive, you'll receive unparalleled help from experienced staff and the finest techniques and products from Superior Paint Supply.
Don't settle for anything less than the best. Superior Paint Supply strives to help our clients showcase the beauty and brilliance of well-maintained cars, trucks, and SUV\'s. With our affordable services, you can now put our passion for beautiful automobiles to work for you.
Our Commitment to Our Customers:
To offer a quality environment of trust, responsibility and professionalism.
To foster teamwork, innovation and accountability.
To be affiliated with career-minded suppliers who are deeply committed to delivering superior products for achieving exceptionally high productivity for our customers.
To serve our diverse client and customer base with mutual respect and admiration.
And to demand the highest standards from our suppliers.
Have You Joined Our Newsletter?
Sign up for our newsletter and never miss out on the latest news, tips and deals. You'll get:
Advice, tips and hints on repair procedures
Information on new and upcoming products
Exclusive access to new spray equipment
1388 South 700 West, Salt Lake City, UT 84104
5910 South 350 West, Murray, UT 84107